SZILARD Zohner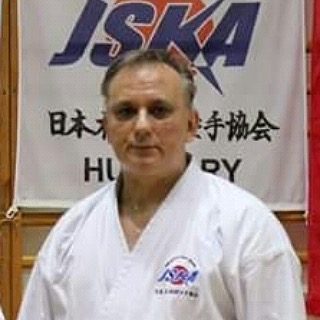 Zohner Szilard started his Shotokan Karate-Do in 1977. Over the last 43 years, he has
been working with great JKA Masters: Miyazaki, Asai, Kato, Mori, Tanaka, Ochi,
Sawada and Osaka Sensei. He has been teaching karate and self-defense technique since 1994.

Szilard has over 30 years of experience as a referee in WKF and Shobu Ippon system and classified as a referee in WUKO. He joined JSKA in 2008. Szilard has organized various seminars with Abe Sensei's attendance in Hungary. He organized and hosted
the JSKA European Championships in Hungary (Sopron) in May 2017. This event was
awarded by the Shihankai members with the "Best Organized Championship" title.
A graduate of mechanical engineering specializing in advanced safety engineering, he is
now working at Budapest Airport, the biggest Airport in Hungary, as an aircraft safety expert. A devoted member of Shihankai since 2018, Szilard is always very generous in sharing his knowledge and technique.